Landowners
In addition to helping Scotland meet its commitments to generate zero emissions by 2045, wind turbines provide landowners with an additional income stream over a long term period.
If you think your land might be suitable for wind turbines, please contact us. With a small amount of information such as a land boundary map or site postcode, we can conduct a free appraisal of the suitability of your land.
We screen hundreds of sites each year using bespoke computer mapping.
We look for several factors: good wind speed is important, but so are the constraints such as the impact on the landscape, environment, land designations and nearby aviation and radar systems. Cost effective access to the electricity network is also vital.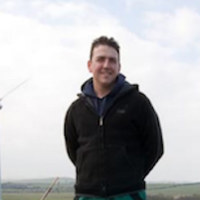 "These turbines mean we can be assured of a secure long term income from our land."
Landowner
Frequently asked questions
Why should I consider wind turbines?
The UK is the windiest country in Europe. Over the past decade renewable energy has become the fastest growing power source. Wind accounts for the majority of renewables in the UK. Wind turbines provide an ideal farm diversification as they take up a relatively small amount of land, allowing farming activities to continue largely undisturbed.
What is the revenue from wind turbines?
Our objective is to provide landowners with a long term, secure revenue stream. This is based upon a proportion of the revenue generated from selling electricity from the wind turbines.
What is the financial risk to me as a landowner?
We take all the financial risk, both during development and operational phase. We have the specialist skills required for design, planning, financing, construction and operation - our people are genuine experts at what they do, and we will waste no time in moving good projects forward. We have a hard-earned reputation to look after, and will be quick and decisive in both thought and action.
What size wind turbines would you be considering?
We aim to maximise the renewable electricity potential from each site, and investigate which turbine best suits the location and site wind conditions. We are independent of any particular manufacturer. Most wind turbines being developed on Scottish sites at the moment are between 150m-200m tall, and between 4-5MW per unit.
Is my land suitable?
Our team will assess your land for suitability based on a range of sensitivities such as landscape and visual, ecology, noise, windspeed, proximity to housing, transport, access, grid and aviation/radar systems.
We can provide an initial feasibility report in a short amount of time, at no cost or obligation to you.