Photo: Shutterstock, 1262567941, GH Studio
Flexibility optimisation
Batteries and gas engines provide the reliability and flexibility needed to keep the lights on when there's not enough wind or sun. We will maximise the value of this facility in the short-term energy and ancillary services markets. As one of Europe's largest traders in this space, we leverage our leading expertise in asset optimisation and algorithmic trading as we optimise your facility across all relevant markets. We operate a partnership model - working closely with you to achieve optimal performance.
Our offer:
Grid-scale battery storage PPAs; optimisation and route-to-market
We provide high-performance and turn-key optimisation services for battery storage facilities, and a collaborative partnership approach across available markets:
Management of ancillary service market access (e.g. frequency response markets) 
Trading across day ahead and intraday energy markets and participation in the Balancing Mechanism
Joint optimisation of Ancillary Service and Wholesale market income
Import power for the facility (including auxiliary consumption)
Flexible generation PPAs; optimisation and route-to-market 
We provide the full scope of services to maximise the value of your flexible generation facilities, including:
Optimisation and trading across day ahead and intraday energy markets, including Balancing Mechanism participation
Option to fix shares of the income through the forward market
Management of Gas supply
Procurement of carbon certificates for the facility 
Ancillary Services participation as agreed
Import power for the facility (for auxiliary consumption) as agreed
Co-located renewable plus storage PPAs 
Route-to-market services for the entire site, managing imbalance on the renewable generation, while also trading and optimising the co-located storage asset, taking site-specific constraints into account 
Hydrogen electrolysis supply and optimisation
We have developed a full scope of services to supply green hydrogen electrolysers with renewable electricity with long term price certainty, and optimise the scheduling of electrolysers in the spot market to maximise the value of their flexibility
Why work with us?
Security of portfolio
As an established utility managing one of the largest third-party portfolios, we can guarantee security of services and can offer bankable minimum income floors.
Dynamic service
With a 24/7 manned trading desk and a superior trading platform, the team provides agile, flexible and dynamic services. These combine to maximise our customers' gross margins.
An extension to your team
Known for our regular contact and personable approach, we build strong and loyal partnerships with our clients.
"We have partnered with Statkraft because of its industry-leading trading capabilities and innovative approach to future energy markets. "
Managing Director, Statera Energy
Optimise your facility in 5 steps
You enter our Virtual Power Plant and our Statkraft Unity platform. This allows us to remotely send schedules to the facility and read active power output; interfacing can use all major controls protocols.
We agree on the Trading and Dispatch Strategy. Prior to operations, we agree the commercial and technical parameters (such as risk tolerance, market preference, etc) within which we will optimise your facility across agreed markets.
We enter operations. We trade the facility based on the agreed Trading and Dispatch Strategy, and send the resulting schedules to the Facility via the VPP. You are able to follow along in real-time via our Customer Portal, including availability, schedules, metering, and indicative PnL.
We report on monthly results. We provide detailed and transparent monthly reports calculating the achieved gross margins and net payments. We also provide trading and technical performance benchmarking to highlight areas for potential improvement going forward.
Continuous dialogue and improvement. We realise that markets and commercial preferences evolve and hold regular meetings with our customers in order to discuss operations and identify improvements for implementation.
Contact
For the wider Markets team : Contact the PPA team at www.statkraft.co.uk/what-we-offer/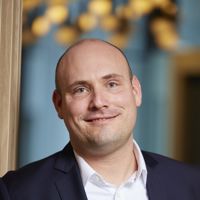 Brian Lonn
Head of UK Flexibility