Windy Rig construction site
Windy Rig Wind Farm
Windy Rig Wind Farm is a subsidy-free project located on the Moorbrock Estate, 10km south of New Cumnock, Dumfries & Galloway.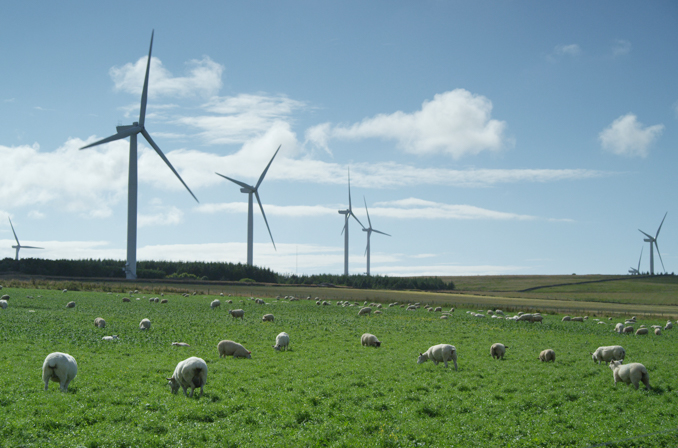 Key facts
Turbines: 12
Installed capacity: 43MW
Consented: December 2017
Construction started: February 2020
Community Fund: £215,000 per year
Turbine Delivery Information

Here you will find the latest updates on the delivery of turbine components to the Windy Rig Wind Farm.

Read more

Construction News

Here you will find the latest updates on the Windy Rig Wind farm

See latest updates here
Community
We want to keep local residents and road users up to date during construction. We have met with the Carsphairn Community Council and continued regular Community Liaison Group (CLG) meetings to discuss how we can minimise disruption and keep residents informed, particularly users of the B729. This will be especially important when the turbines are delivered to site.
We are also starting to discuss the community benefit fund arrangements with the CLG. Please contact us for more information.
Construction
Statkraft has appointed Scottish company RJ McLeod to undertake the civil engineering works, with turbines being supplied by Vestas.
We have a traffic alerts system in place for users of the B729 - please contact us if you would like to be added.
Background
In December 2017, the project was granted planning permission by Dumfries and Galloway Council. Originally developed by Element Power, consultation with local communities and statutory consultees took place to develop Windy Rig Wind Farm. The project will represent a natural extension to the existing and consented cluster of wind turbines at Windy Standard. As well as concentrating wind farms in one area, this also means infrastructure can be shared with other developments, reducing environmental effects.
In October 2018 Statkraft acquired Element Power Ireland Ltd, which included the consented Windy Rig Wind Farm. We are pleased that many of the team that developed the project are now involved in its construction.
Timeline:
| | |
| --- | --- |
| Feb-Mar 2020 | Site office established |
| Mar-Apr 2020 | Additional passing places on the B729 agreed |
| May 2020 | Widening of some parts of the C35 road to improve access |
| May-Jun 2020 | Turbine foundations completed |
| Jun 2020 | Roadside laydown area construction |
| Early sep 2020 | Turbine delivery trial run |
| Sep-Oct 2020 | Turbine deliveries |
| Early 2021 | Turbine erection commences |
| Late spring 2020 | Wind farm operational |
Media enquiries
Alison Hood

UK Wind development communications manager, ENUD - Wind & Solar, Project Development
Latest updates Windy Rig Wind farm
May/June 2021 - Latest Update
We are now halfway through our blade delivery programme. This is the first time a specialist blade transporter is being used in the UK. This allows the blade to be lifted up to a 60 degree angle vertically and rotate 340 degrees to help negotiate the journey to the Windy Rig Site.
Statkraft attended the recent Carsphairn Road Network Ward Meeting arranged by Councillor Pauline Drysdale. Statkraft were able to update the local community on progress with component deliveries, the C35 road repairs and timescales for the completion of the project. We appreciate that the delivery phase of the project has been difficult for residents on the B729 and C35, and Statkraft and all the contractors would like to thank them for their patience during this time. As a direct result of the meeting, we are improving how we communicate potential traffic disruption, including how we use the text messaging service to provide delivery updates.
In late June, we expect component deliveries to be completed and residents will see a reduction in traffic volumes generally.
Remedial works to restore the C35 to its pre-delivery condition will commence in July. These works are covered by a legal agreement and a bond has been lodged with Dumfries & Galloway Council. The works require approval by the Council after completion. A detailed works plan will be shared with residents along the C35 before commencement.
Onsite, work will continue until late Summer, with turbine installation expected to be completed in August.
March/April 2021 - Latest Update
At the beginning of March there were two incidents involving crane vehicles on their way to the Windy Rig Wind Farm site. There were no injuries at either incident and the relevant authorities were notified. As a robust plan was formed to safely remove the vehicles and monitoring was put in place.
This included redirecting the water course around the cranes and using pumps to move the water away from the vehicles. The fluids were removed from the vehicles and personnel were placed at the incident sites round the clock to monitor for any possible contamination.
Preparatory road works were required on both sides of the C35 to allow access for two larger cranes to lift the vehicle out of the verge and onto a transporter to be removed from site. During this period, we communicated with local residents through the Community Council, our website and our text messaging service.
Deliveries of turbine components commenced shortly after the crane removal and will continue for several weeks. We would like to thank local residents for their patience and understanding during the difficult few weeks in March.