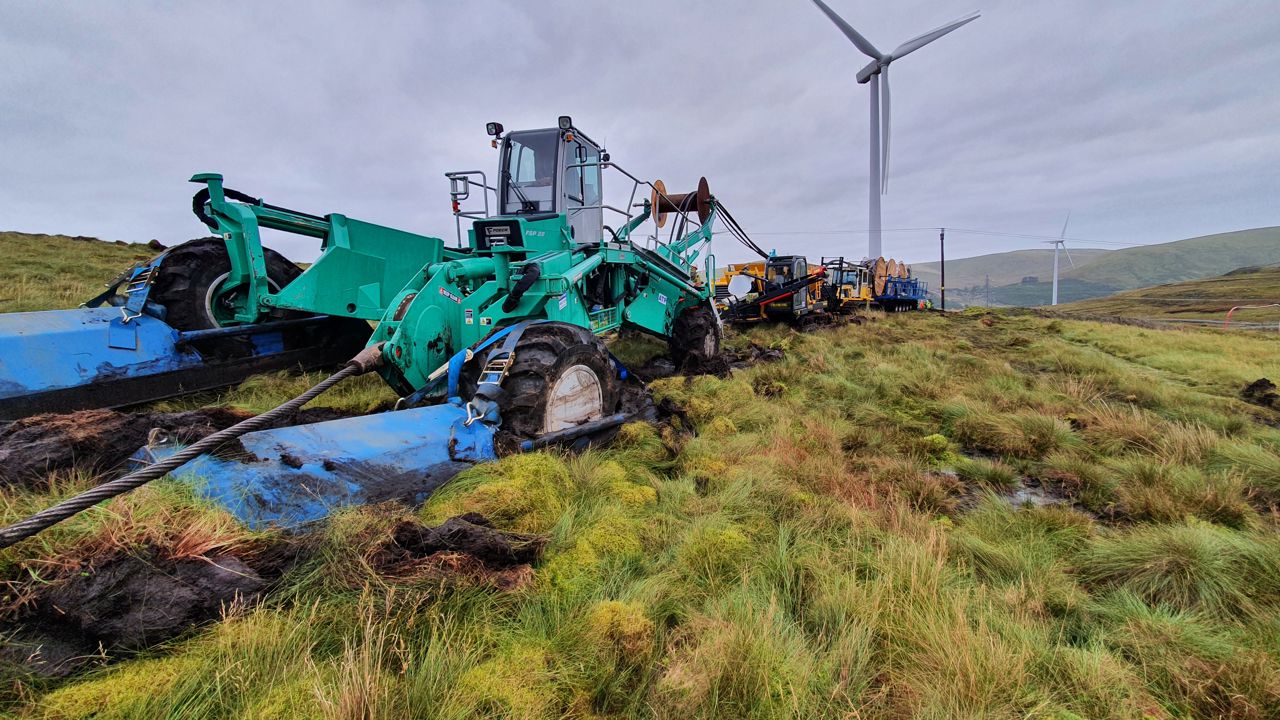 Windy Rig construction site
Windy Rig Wind Farm
Windy Rig Wind Farm is a subsidy-free project located on the Moorbrock Estate, 10km south of New Cumnock, Dumfries & Galloway.
Key facts
12

Turbines

43MW

Installed capacity

December 2017

Consented

February 2020

Construction started

£215,000 per year

Community Fund
Latest updates Windy Rig Wind farm
Replacement component delivery
Work to widen the B729 and C35 roads will commence on Tuesday 19 April with the works expected to take 5 weeks to complete. The widening works are required to facilitate the delivery of a replacement turbine component following a technical fault on one of the turbines.
Stop/Go boards will be in place to maintain a safe working area. We will endeavour to minimise disruption during the works and apologise in advance for any disruption the works may cause to residents.
Windy Rig wind farm complete and generating electricity
Windy Rig wind farm, developed by Statkraft, is now fully operational and generating green electricity from Dumfries & Galloway; producing enough electricity to power an estimated 41,000 homes per year. Read the news article for more information.
halfway through our blade delivery programme
We are now halfway through our blade delivery programme. This is the first time a specialist blade transporter is being used in the UK.
This allows the blade to be lifted up to a 60 degree angle vertically and rotate 340 degrees to help negotiate the journey from the laydown area along the twisty sections of the B729 to the Windy Rig Site.
Statkraft attended the recent Carsphairn Road Network Ward Meeting arranged by Councillor Pauline Drysdale. Statkraft were able to update the local community on progress with component deliveries, the C35 road repairs and timescales for the completion of the project. We appreciate that the delivery phase of the project has been difficult for residents on the B729 and C35, and Statkraft and all the contractors would like to thank them for their patience during this time. As a direct result of the meeting, we are improving how we communicate potential traffic disruption, including how we use the text messaging service to provide delivery updates.
In late June, we expect component deliveries to be completed and residents will see a reduction in traffic volumes generally.
Remedial works to restore the C35 to its pre-delivery condition will commence in July. These works are covered by a legal agreement and a bond has been lodged with Dumfries & Galloway Council. The works require approval by the Council after completion. A detailed works plan will be shared with residents along the C35 before commencement.
Onsite, work will continue until late Summer, with turbine installation expected to be completed in August.
Two incidents involving crane vehicles
At the beginning of March there were two incidents involving crane vehicles on their way to the Windy Rig Wind Farm site. There were no injuries at either incident and the relevant authorities were notified.
As a robust plan was formed to safely remove the vehicles, appropriate environmental measures and monitoring was put in place.
This included redirecting the water course around the cranes and using pumps to move the water away from the vehicles. The fluids were removed from the vehicles and personnel were placed at the incident sites round the clock to monitor for any possible contamination.
Preparatory road works were required on both sides of the C35 to allow access for two larger cranes to lift the vehicle out of the verge and onto a transporter to be removed from site. During this period, we communicated with local residents through the Community Council, our website and our text messaging service.
Deliveries of turbine components commenced shortly after the crane removal and will continue for several weeks. We would like to thank local residents for their patience and understanding during the difficult few weeks in March.
Update – Turbine Delivery Trial Runs Complete
Work continued to progress well on the Windy Rig development throughout December and January.
Onsite the construction of all the turbine bases was completed before Christmas and the last of the access roads will be completed in early February. Offsite, the laydown area and the roads on the delivery route, the B729 and C35, are ready for turbine deliveries.
In December the remaining trial run to simulate the delivery of a Vestas turbine tower component went well. The turbines will be transported to site by Collett and erected on site by Vestas. It is expected that turbine deliveries will start in February.
We are currently operating a text message service to alert residents to potential disruption. If you wish to register for text updates please phone or text Doug Wilson on 07542 754642 to be added.
Update - Turbine Delivery Trial Run 17 December
The turbine trial run on Thursday 10 December went well - this simulated a blade delivery, the longest component we need to deliver to the site. The next trial run will simulate the delivery of a tower component, on Thursday 17 December.
Vehicles will be travelling from the south along the A713 and will arrive at the B729 junction at approximately 1300 and will travel along the B729 arriving at the site entrance at 1400.
This is subject to final approval from Police Scotland, who will be in attendance throughout.
We will be texting all residents who are registered for updates with confirmation of the trial run.
If you wish to be added to text updates to include traffic impacts, please phone or text Doug Wilson on 07542 754642.
Update - Turbine Delivery Trial Run 10 December
A turbine delivery trial run is being planned for Thursday 10 December 2020 (postponed from 3 December). This involves driving a long trailer unit along the transport route to simulate the journey of the longest turbine component (the blade).
The trial run will start at 0930, to avoid early morning and school traffic, and we expect would be completed at approximately 1200. The trial run convoy will travel along the B729 from the laydown area south of Carsphairn, onto the C35 and onwards to the site entrance. The estimated timings along the route are:
0930: Departure from Blade Laydown Area, Cairsphairn
1030: Bridge over the Water of Deugh
1043: Junction of the B729 and B7000
1110: Junction of B729 and C35
1155: Arrive at Site Entrance
This is subject to final approval from Police Scotland, who will be in attendance throughout the run.
We will be texting all residents who are registered for updates with confirmation of the trial run. If you wish to register for text updates please phone or text Doug Wilson on 07542 754642 to be added.
What's Happening Onsite?
Progress has been good, with more access tracks completed and work starting on the turbine foundations.
Because we have been able to source stone within the site to create the access tracks, we have managed to greatly reduce the traffic along the B729. We are pleased to see lots of local suppliers - almost half of our present suppliers come from within a 30-mile radius of the site. We are currently using local suppliers for plant hire, aggregates and piping. One of the local companies, GTR Contracts based just outside Dumfries, supply us with the heavy machinery required to construct the tracks to the turbine locations.
Local roads update
We are pleased to have been able to significantly reduce traffic on local roads by producing some of the materials required on-site.
Blasting on the site took place throughout June and July to provide aggregate for access tracks throughout the site. Tracks have been constructed to allow vehicles to move around easily, even in wet weather, and will remain in place for the operating life of the project.
The installation of ten additional passing places along the B729 went smoothly, the passing places are large enough to allow an HGV to pull in and allow traffic to pass safely. Originally designed as a temporary measure, we are pleased to have been able to work with D&G Council to ensure these new passing places will remain after the construction to make travel along the B729 safer for local residents in the future.
Improving local roads
Work starts this week on ten new passing places along the B729. They will be of sufficient width to allow one HGV to pull into a passing place to allow another HGV to pass safely.
These passing places were originally designed to be temporary but we are pleased that after working with Dumfries & Galloway Council, these will remain in place after construction and provide long term benefits to road users. We estimate the works will take approximately five weeks to complete. View the map of passing places.
Reducing construction traffic
One way of minimising construction traffic on local roads is to produce some of the materials required on the site, such as the aggregates for concrete and access tracks.
To achieve this, some blasting is required onsite in areas that have been permitted to be used as "borrow pits". The blasting activity is carefully controlled and prior notice of each event is provided to the closest residents and relevant authorities, such as the local police.
We would also remind local road users that a text message notification service is in use to provide prior notice of potential disruption – contact us if you would like to receive these, to doug.wilson@statkraft.com
22/05/20 Planning a Safe Return to Site
Planning a Safe Return to Site part 2
Over the past week, we have been preparing the site compound to ensure that we can operate safely and comply with the Scottish and UK Governments guidance on social distancing.
Currently, our activity on site is at approximately 80% of normal operations on the main windfarm site and we hope to be back to full normal operations in the coming weeks as more associated suppliers reopen their businesses, based on the current Covid-19 guidance and phasing plan announced by the Scottish Government.
On Site
We have created a one-way system in the office compound with clearly marked distancing measures in all of the facility including meeting rooms, offices and rest rooms. We have also added additional hand wash stations at the entry and exit of the compound.
We will continue to monitor the advice and guidance from the Scottish and UK Governments and make any required adjustments to our working patterns.
Local Roads
Speed restriction signage is currently being installed along the B729 to remind drivers to reduce their speed and be courteous to other road users.
We are progressing work to create new passing places along the B729. The passing places will be permanent and will remain in place after construction on the wind farm. We have been liaising with Dumfries & Galloway Council roads department to agree the number and location of the passing places. We expect this work could commence in early June and would take approximately six weeks. During the installation of passing places, temporary traffic lights will be in place.
Our text notification service is up and running, which is used to update road users on activity and deliveries along the B729. Residents who would like to receive these notifications are asked to contact us. We will continue to use the Glenkens Gazette to keep the local community up to date with progress.
Planning a Safe Return to Site
Following the site closure in March, we have been tracking and analysing Government and Industry guidance as it has evolved. Windy Rig is classified as a high priority project and considered essential in the security of supply on the National Grid Network.
We are currently planning for the safe resumption of works at the Windy Rig site.
Please be assured that the safety of our own staff, our contractors and the local community is of utmost importance. The next phase of the work required on site is solitary by nature – individual workers sitting in enclosed machinery cabs preparing ground works. For work to continue, we will ensure that staff can travel safely and independently from their homes to the site, work safely and in accordance with Scottish Government construction guidance.
We continue to monitor the situation closely and there will be light activity on site during the next week to review what is needed to resume works, and formalise working plans to accommodate COVID-19 guidance.
Windy Rig Construction Site Closure
Statkraft is closely monitoring the development of the COVID-19 outbreak and is taking continuous measures in line with the advice of the Scottish and UK Governments.
Following recent announcements and advice, the construction of the Windy Rig Wind Farm is temporarily closed, effective from Tuesday 24th March 2020.
The site closure will be under constant review and any decision to reopen the site will be taken in line with the updated advice and guidance from the Scottish and UK Governments.

Media & Resident Enquiries:
Email: doug.wilson@statkraft.com
Phone: 07542 754642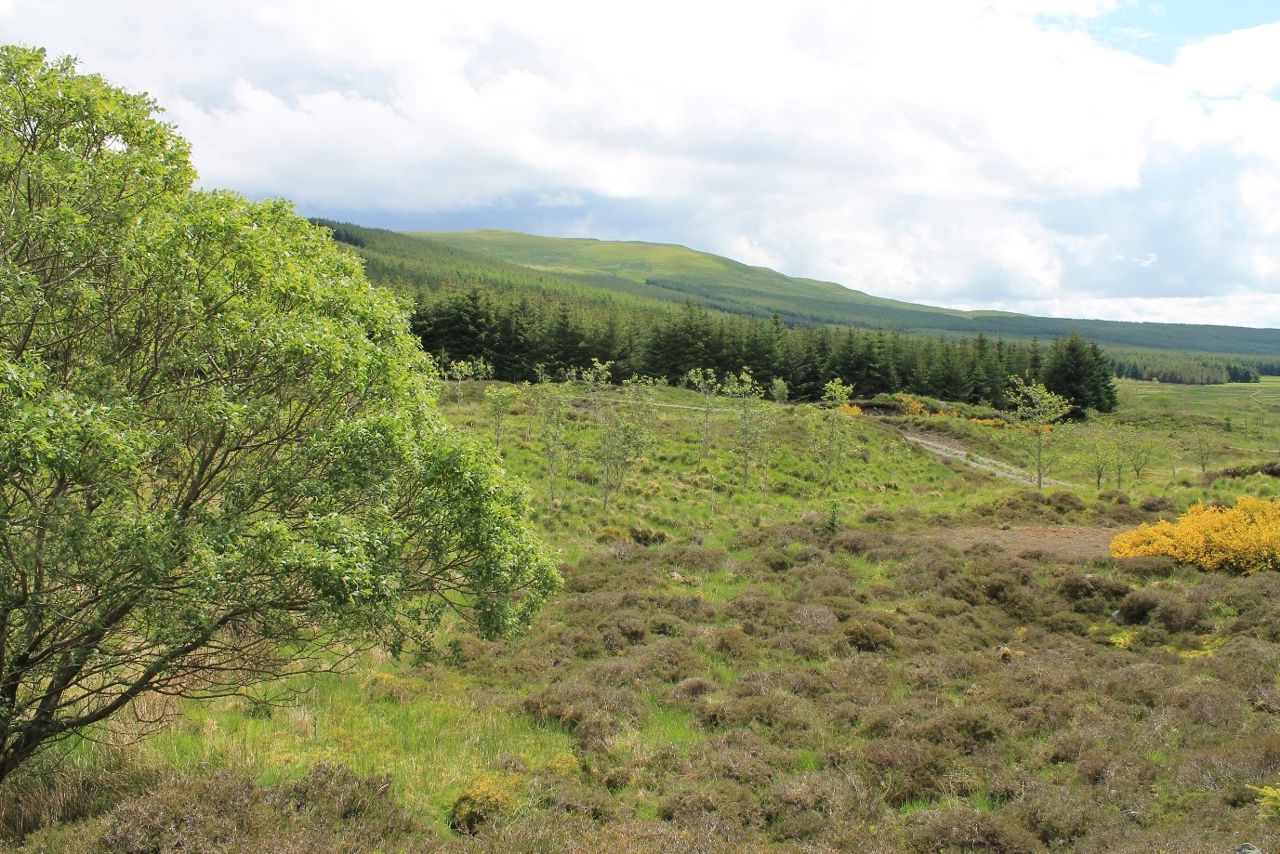 History
In December 2017, the project was granted planning permission by Dumfries and Galloway Council. Originally developed by Element Power, consultation with local communities and statutory consultees took place to develop Windy Rig Wind Farm. The project will represent a natural extension to the existing and consented cluster of wind turbines at Windy Standard. As well as concentrating wind farms in one area, this also means infrastructure can be shared with other developments, reducing environmental effects.
In October 2018 Statkraft acquired Element Power Ireland Ltd, which included the consented Windy Rig Wind Farm. We are pleased that many of the team that developed the project are now involved in its construction.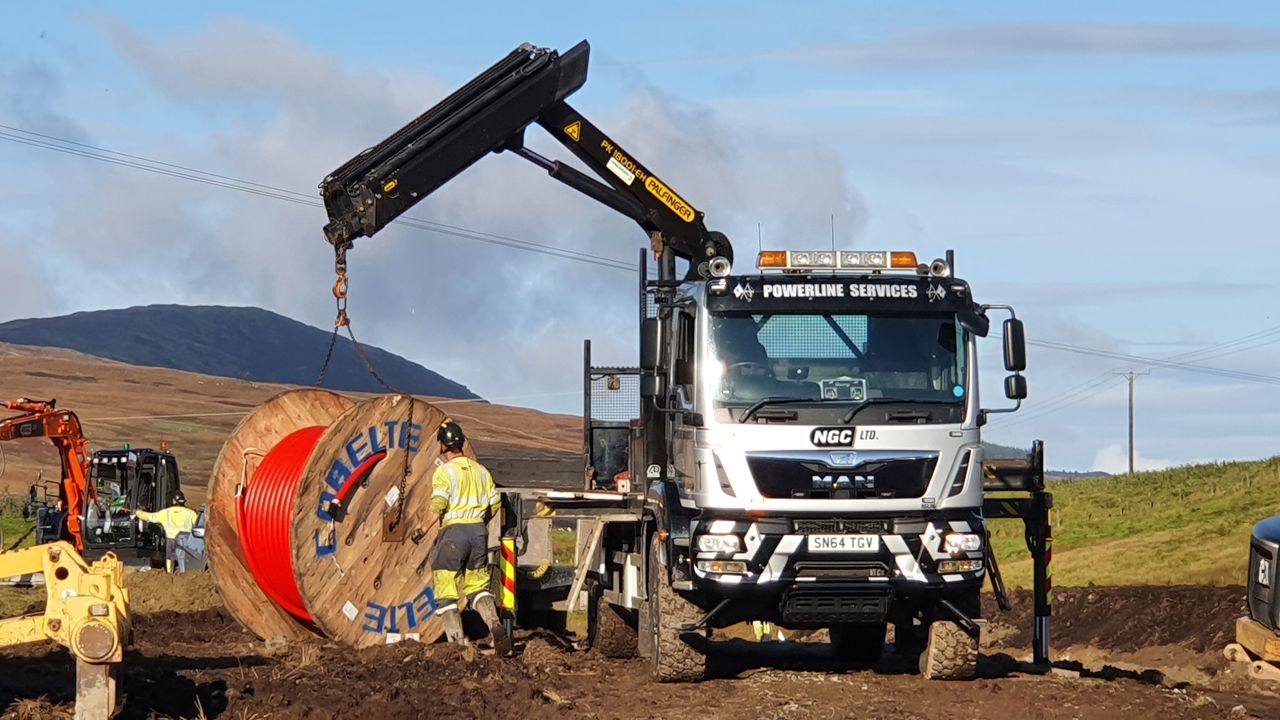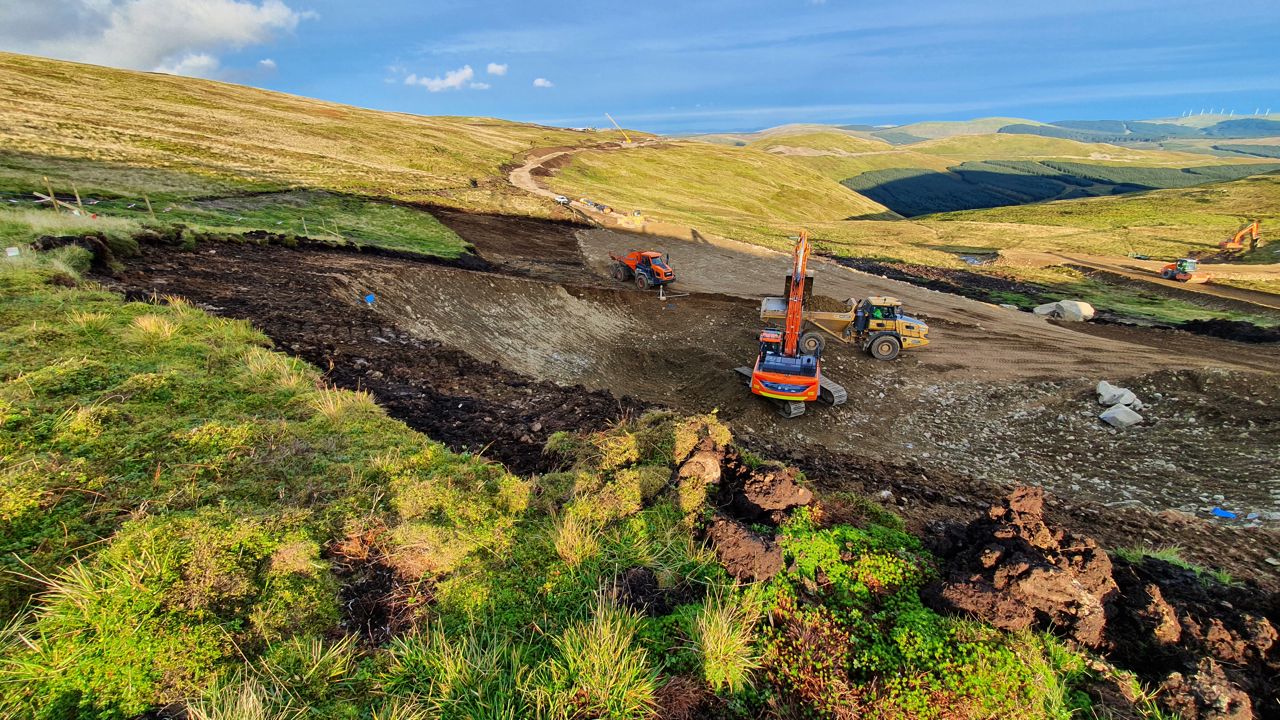 Community
We want to keep local residents and road users up to date during construction. We have met with the Carsphairn Community Council and continued regular Community Liaison Group (CLG) meetings to discuss how we can minimise disruption and keep residents informed, particularly users of the B729. This will be especially important when the turbines are delivered to site.
We are also starting to discuss the community benefit fund arrangements with the CLG. Please contact us for more information.
Timeline:
Additional passing places on the B729 agreed

Widening of some parts of the C35 road to improve access

Roadside laydown area construction

Turbine delivery trial run

Turbine erection commences
Media enquiries
Alison Hood

Principal Community Engagement Manager