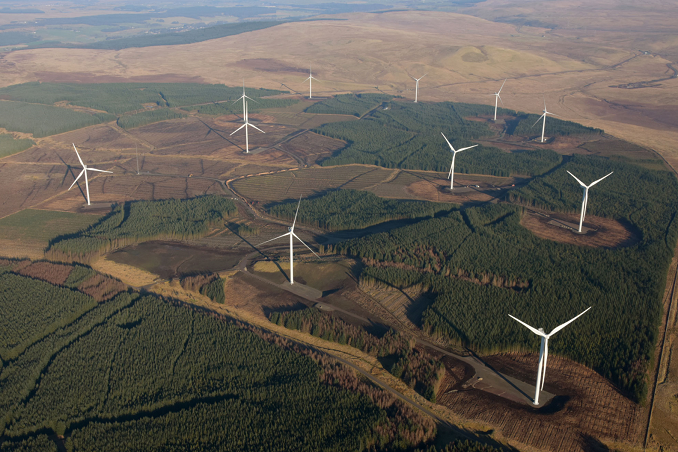 Scotland
Andershaw Wind Farm, Scotland
Andershaw wind farm
Andershaw Wind Farm is located to the South of Glasgow in South Lanarkshire, Scotland.
The wind farm has been operational since 2017. The project consists of 11 turbines and has a total capacity of 36.3 MW, the equivalent of powering approximately 32,000 homes with renewable energy.
Andershaw Wind Farm provides a community benefit fund worth £90,750 per year. The projects that receive funding focus on community improving activities such as upgrading infrastructure, securing sustainable development and implementing training, or advancing education.
Key facts - Andershaw wind farm
£91 250 p.a.

Community fund

25 773

Equivalent homes served

11

Number of turbines
| | |
| --- | --- |
| Company | Ownership share |
| Statkraft | 100% |
Community Benefit Fund
Andershaw Wind Farm will be providing a Community Benefit Fund worth £91,250 per annum.
The fund will be available throughout the lifetime of the wind farm for groups projects and initiatives within a 10km radius from the site.
Projects eligible for funding will focus on:
Securing investment and creating employment
Securing sustainable development and implementing training
Preserving, protecting or enhancing the environment and heritage of Scotland
Advancing education and relieving poverty
Upgrading infrastructure
Upgrading recreation and leisure facilities
The fund is administered by South Lanarkshire Council's Renewable Energy Fund.
Since the fund was established, Statkraft has invested over £283,016 to local groups, projects and initiatives.
For more information about the Renewable Energy Fund or the application process, click here to visit the South Lanakshire websites.
Contact:
Community Benefit Fund Enquiries
Tel: 0330 363 6229
Address:
Renewable Energy Fund
Business and Property Development Team,
Regeneration Services,
South Lanarkshire Council,
Enterprise Resources
Montrose House
154 Montrose Crescent
Hamilton, ML3 6LB
Community Enquiries
Tel: 020 7448 8200
UKProjects@statkraft.com
Site Manager
Glyn Griffiths
Media enquiries
Alison Hood

Communications Manager - UK Projects
Find out more about our activities in the United Kingdom