Statkraft's Airvolution partnership bears fruit in Scotland
Statkraft has confirmed its continued commitment to onshore wind in the UK by the acquisition of Ackron, a 36+MW onshore wind farm project. The unconsented project, located in the Scottish Highlands, was identified and secured by its development partner, Airvolution Clean Energy Limited.
The Scottish Ackron project has been acquired from German renewable energy company WPD. The project is scheduled to go into planning at the end of 2019.
The project is the first of around twelve onshore wind projects that have been identified in the wider Airvolution development pipeline amounting to more than 1GW and that will be secured over the next six to twelve months. The partnership with Airvolution was signed in October 2017 to help achieve Statkraft's ambitions to invest, construct and operate around a GW in the UK by 2023-25 utilising the skills and expertise of a local developer.
David Flood, Managing Director of Statkraft UK said:
"This acquisition fits perfectly with our ambitions to increase Statkraft's UK wind portfolio, and we look forward to more projects progressing in the future – from direct acquisitions as well as projects through Airvolution's landowner sourced "greenfield" development pipeline."
Richard Mardon, CEO of Airvolution said:
"The challenge of developing onshore wind projects in the UK has never been higher, however I am confident of our capability to navigate tough planning and financial barriers to help expand Statkraft's growing portfolio. The hard work of our team is starting to bear fruit as we approach the first anniversary of our partnership agreement."
About Statkraft UK
Statkraft is a leading company in hydropower internationally and Europe's largest generator of renewable energy. The Group produces hydropower, wind power, solar power, gas-fired power and supplies district heating. Statkraft is a global company in energy market operations. Statkraft has 4000 employees in 17 countries.
In the UK Statkraft develops, owns and operates renewable production facilities and is also involved in the trading and origination of power from its own projects and those of third parties.
Since 2006, Statkraft has invested £1.4 billion in the UK's renewable energy infrastructure and facilitated over 6 GW of new-build renewable energy generation through Power Purchase Agreements (PPAs). With a portfolio now exceeding 10 TWh per year from almost 300 customers, Statkraft is the leading provider of short and long term PPAs in the UK.
Contact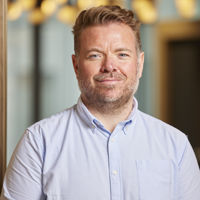 Gary Connor
Media Relations Manager, Statkraft UK