Statkraft signs Long Term PPA with Seagreen Wind Energy
Statkraft has entered into a long-term Power Purchase Agreement with Seagreen Wind Energy Limited to purchase 50% of the output from the project.
Construction of the 1,075MW project is expected to be completed in 2022/23 and once fully operational Seagreen will become the largest wind farm in Scotland, providing power to the equivalent of 1 million homes from the project's 114 10MW wind turbines.
Statkraft are one of the most active offtakers in the UK market with a substantial portfolio of offshore wind, onshore wind, solar, biomass and other technologies. The first Statkraft PPA in the UK was signed in 2010 and the portfolio has since expanded to 230+ long term PPAs.
John Puddephatt, Head of Long Term PPA Origination, at Statkraft said "once operational this PPA for 50% of the output from Seagreen will become the largest in our UK PPA portfolio, substantially increasing upon the 10TWhs currently under contract. We wish Seagreen well during the construction phase and look forward to working with them for many years to come."
Mark Timmons, Offshore Bid Manager at Seagreen Wind Energy Limited, said "as part of our project financing we required an off-taker with a strong credit rating and the ability to purchase a substantial amount of power on a long term basis. Statkraft were well suited to this role."
About Seagreen Wind Energy Ltd
Seagreen Offshore Wind Farm is a 114-turbine offshore wind farm development located off the east coast of Scotland. It is wholly-owned by SSE Renewables, a leading developer in the UK and Ireland with around 4GW of renewable capacity. In September 2019, Seagreen secured a 15-year CfD contract awarded by the UK Government for 454MW. Once complete, Seagreen will be the largest offshore wind farm in Scotland and will provide zero carbon electricity for around 1 million homes, making a significant contribution to the UK and Scotland's net zero targets.
For more information, please contact:
John Puddephatt, Head of Long Term PPA Origination, Statkraft, tel +44 07966 016863, john.puddephatt@statkraft.com
About Statkraft UK
Statkraft is a leading company in hydropower internationally and Europe's largest generator of renewable energy. The Group produces hydropower, wind power, solar power, gas-fired power and supplies district heating. Statkraft is a global company in energy market operations. Statkraft has 4000 employees in 17 countries.
In the UK Statkraft develops, owns and operates renewable production facilities and is also involved in the trading and origination of power from its own projects and those of third parties.
Since 2006, Statkraft has invested £1.4 billion in the UK's renewable energy infrastructure and facilitated over 6 GW of new-build renewable energy generation through Power Purchase Agreements (PPAs). With a portfolio now exceeding 10 TWh per year from almost 300 customers, Statkraft is the leading provider of short and long term PPAs in the UK.
Contact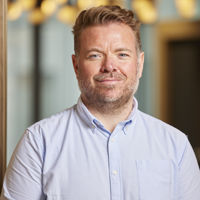 Gary Connor
Media Relations Manager, Statkraft UK