Location: Oslo, Norway
Photo: Hans Fredrik Asbjørnsen
Siri Langangen is senior vice president and head of Corporate HR in Statkraft, located at the company's headquarter in Oslo, Norway.
Meaningful work drives employee momentum, even during crisis
Statkraft HR leader Siri Langangen believes that there are important lessons to be learned as we tackle the Covid-19 situation, especially when it comes to the power of meaningful work.
Siri Langangen started in her first leadership role in 2009, in the midst of the global financial crisis. She was working in a bank. It's a point in her career that is seared into her memory, not necessarily for the challenges faced, but rather the lessons learned.
"I learned that dealing with uncertainty is something you need to be comfortable with and prepared for as a leader. You need to help your employees see the light at the end of the tunnel. If you can't, you will create even more uncertainty among your team," she says.
New role in Statkraft sparks pride
Now, 11 years later, Siri once again finds herself in a leadership position in a time of crisis – serving as SVP and HR Director for Statkraft. She joined the company in August 2019, after a long and varied career in the Norwegian bank DNB, and it's a move that she says has made her quite proud.
"When I tell people what I do now, I get such a positive response. They find the company itself and renewable energy so interesting, so instead of talking about my role, they want to hear about the what we as a company are doing."
Before her start in Statkraft, Siri did some thorough investigation of the company, to be sure that this was a place she wanted to land. She was struck by the discovery that Statkraft is Europe's largest provider of renewable energy.
"I've always been triggered by starting something new. Moving from banking to renewable energy was definitely new, and I find myself inspired by the meaningfulness of our work in Statkraft. We want to be one of the world's largest providers of renewable energy, not just Europe's. We are the solution!"
When employees are driven by purpose, not even a crisis can stop them
Traditional forms of energy are some of the largest polluters on planet Earth. Statkraft embraces the stance that to slow and eventually stop carbon emissions in its tracks, renewable energy is required. Clean energy can power every industry, every business, every community and every home. It's about progress and possibilities, and this is what Siri calls meaningful work.
"Meaningfulness of your work is critical in crisis," according to Siri. "Because meaning drives engagement. It's the light at the end of the tunnel." Engagement levels are still running high in Statkraft, several weeks into the Covid-19 crisis, which Siri attributes to not only the company's bold ambitions but also to the people behind those ambitions.
"I am so impressed by the sheer competence of the people in Statkraft, the warm and welcoming work environment, and the level of engagement that permeates all levels. During this crisis, I believe that our dependency on each other within the Statkraft organization as well as our critical role we play in society, has become even clearer."
Contact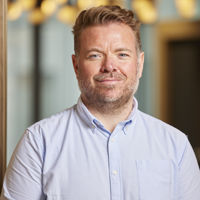 Gary Connor
Media Relations Manager, Statkraft UK