Powering the Future: Accelerating the UK's Energy Transition through Innovative Renewable Technologies and Sector Reform
Statkraft's Richard Mardon explains why renewables can solve many of the issues we're currently facing in the UK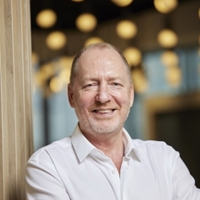 "By scaling up the solutions we have today, we can deliver a greener tomorrow"
Head of UK Development
As the world's energy demands continue to rise our existing supply is becoming increasingly stretched. What's more, as we pursue alternative sources in response to Russia's invasion of Ukraine, the need to deliver the energy transition is becoming increasingly urgent. According to this year's Global Renewables Status Report from Renewables Now, the growth of renewables to 40% of total energy production shows we have already made good progress as a planet in scaling up green energy. However, there is clearly still a long way to go to meet growing global energy demands and reduce greenhouse gas emissions.
The latest report from the Intergovernmental Panel on Climate Change has demonstrated that if we fail to meet net zero and limit global warming to 1.5°C above pre-industrial levels, the floods and fires we have seen around the world in recent years will get more frequent and fiercer, crops will be more likely to fail, and sea levels will rise, driving mass migration as millions are forced from their homes. The clock is ticking for humanity, with recent research from the World Meteorological Organisation suggesting that there is a 66% chance that the planet will pass the 1.5°C threshold between now and 2027, running the risk of irreversible climate damage.
Completing the energy transition isn't just the right thing to do for the planet, it's also better business. According to the UN, the cost of electricity from solar power fell by 85 percent between 2010 and 2020 and costs of onshore and offshore wind energy fell by 56 percent and 48 percent respectively. The International Renewable Energy Agency also estimates that every dollar of investment in renewables creates three times more jobs than in the fossil fuel industry, with an estimated 14 million new jobs to be created in clean energy by 2030.
Delivering the UK's renewables drive
Scaling up renewables can solve many of the issues that we are currently facing in the UK. Renewable energy sources can deliver cheaper bills, employment and investment, and energy security, protecting the population from the volatile costs of fossil fuels in the international energy market. There is already a clear consumer desire in the UK for energy independence; research Statkraft commissioned in 2022 found that three quarters of Britons are frustrated that we rely on other countries for energy, and more than four in five (83%) believe that the UK should be more energy independent. The question remains: how can we deliver this?
If we are to take on the challenge of tackling climate change and seize the economic opportunities of greater energy independence, then it is vital that we invest in a range of innovative technologies that can improve the efficiency and reliability of renewable energy sources. Grid stability, for instance, has been a key barrier to date in switching fully to renewable power. Currently, National Grid Electricity System Operator (ESO) is forced to run gas power stations to ensure an uninterrupted flow of electricity, even when there is more than enough renewable energy to meet Britain's electricity demands. Technologies such as our Greener Grid Parks are a solution to this; they maintain the consistent flow of electricity we rely on, as increasing amounts of renewables power our UK grid. If we are to move away from the fossil fuel reliant system we have at present, we must rapidly scale up technologies such as these.
The UK's Committee on Climate Change (CCC) has also made it clear that no single technology can deliver all the generation that is needed for an increasingly electrified economy. The UK Government's preferred renewable solution is offshore wind, and it is aiming to build 50GW of offshore wind by 2030, up from only 10.5GW installed at present – but never has 30GW been built in just 7 years. The UK Government must therefore be bold by creating a world leading investment environment which enables the energy industry to develop higher capital risk technologies such as green hydrogen. The international environment is incredibly competitive, but Statkraft is leading the way in the development of green hydrogen and its optimisation, targeting 2GW of production capacity by 2030 alone.
Greener tomorrow
Tackling the issues that are holding back renewable project development must also be a priority for policy makers, including complex planning processes and long queues for grid connections. National Grid ESO has illustrated the scale of the connections challenge: there are approximately 220 projects, totalling 40GW, due to connect to the national transmission system before 2026, but only half of these have planning consent and many have been forced to move their connection dates back by over fourteen years. Industry eagerly awaits the outcome of the Electricity Network Commissioner's (Nick Winser) Review, which will be key in shaping how the UK Government can help to speed up the process and provide investors with the confidence that renewable projects will be able to come onto the system in a timely way.
By scaling up the solutions we have today, we can deliver a greener tomorrow. Our energy can be cleaner and cheaper, our climate can be safer, our grid can be more secure and our economy can be stronger. Statkraft and the energy industry are pushing the technologies forward, with the market access and the motivation to seize the challenges and opportunities on offer, but rapid action from policy makers to ready the playing field is essential to realise this vision.
This article was first published on Clean Energy Pipeline.