Statkraft's wind farm deal will help deliver Shetland's renewable vision
The agreement will see Statkraft take over consented sites, Beaw Field in Yell, and Mossy Hill, just outside Lerwick, representing a significant investment in Shetland
Statkraft, Europe's largest renewable power generator, has completed a deal to purchase two wind farms under development in Shetland, solidifying the company's commitment to the islands and pushing forward the UK's energy transition.
The agreement will see Statkraft take over consented sites, Beaw Field in Yell, and Mossy Hill, just outside Lerwick.
These renewable developments will see a significant investment by Statkraft in Shetland, alongside an intention to open an office there later this year as part of a wider commitment to the islands. Statkraft is awaiting a decision from Scottish Ministers for the proposed Energy Isles Wind Farm, also in Yell.
This will mean that Statkraft's total wind portfolio in Shetland will be:
Beaw Field (approximately 72MW of installed capacity and up to 17 turbines)
Mossy Hill (approximately 48MW of installed capacity and up to 12 turbines)
Energy Isles (approximately 126MW of installed capacity and up to 18 turbines) - subject to final consent being granted by Scottish Ministers
Shetland is a key hub for renewables and is leading the push to net zero with its huge potential for wind, solar, hydrogen, battery storage, and grid services.
The deal demonstrates Statkraft's commitment to fulfilling the potential of Shetland to generate more clean, green, renewable energy and will contribute towards the company's ambition of generating 1,200 MW of renewable wind energy by 2030.
Statkraft has offices in London, Glasgow, at Rheidol, near Aberystwyth, and in Cardiff. Originally founded in Norway, the company has been making clean energy possible since 1895, so has a reputation of leadership in renewables.
Statkraft's work in Shetland builds on the already strong relationship between Shetland and Norway by providing a new and exciting opportunity for the two communities to work closely together.
Richard Mardon, Statkraft's Head of UK Development said: "I'm really pleased that we've completed the purchase of these two sites in Shetland, which will eventually generate enough power for the equivalent of over 90,000 homes. Shetland has a proud history of leading the way in green energy innovation, and I'm delighted that Statkraft can help this continue.
"These wind farms represent a positive step towards achieving Scotland's goal of generating a further 12GW of onshore wind energy by 2030 and will play a key part in the push towards a full transition to renewable energy in the UK."
Contact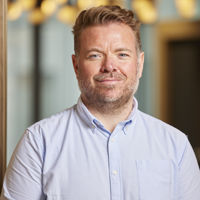 Gary Connor
Media Relations Manager, Statkraft UK