Statkraft sells 30 per cent share in Dudgeon Offshore Wind Farm
Statkraft sells its 30 per cent stake in Dudgeon Offshore Wind Limited to a consortium led by China Resources (Holdings) Company Limited. The sale is in line with Statkraft's strategy to exit offshore wind.
Dudgeon Offshore Wind Farm is a 402MW operational wind farm located off the coast of Norfolk in the UK. Statkraft has been a partner in the project since the acquisition of a 30 per cent shareholding in 2012. Dudgeon was successfully developed in cooperation with the partners Masdar (35 per cent) and Statoil (35 per cent) under the operatorship of Statoil.
In line with its strategy to exit offshore wind, Statkraft has signed an agreement under which a consortium led by China Resources (Holdings) Company Ltd acquires Statkraft's shareholding in Dudgeon for £555 million. The new owner is a state-owned Chinese enterprise with businesses in power, consumer products, real estate, cement, gas, pharmaceuticals and finance.
Successful in offshore wind
Statkraft has played a very successful role in the UK offshore wind industry since making its entrance in 2009. The company has been a leading voice in championing cost reduction for future projects, as well as pioneering innovative developments in operations and maintenance.
"As the world leader in the industry, the UK offshore wind market has brought forward cost competitive projects that represent value for UK consumers and investors, alongside ensuring future energy security and decarbonisation. We are proud of our contribution and as Europe's largest generator of renewable energy, Statkraft will continue to play a substantial role in driving forward developments in the renewables industry both in the UK and other markets around the world," says David Flood, Head of Asset Ownership UK Wind Power in Statkraft.
Growth ambitions in UK onshore wind
In the UK, Statkraft develops, owns and operate onshore wind farms and hydropower assets, and is the leading provider of Power Purchase Agreements (PPAs). Statkraft has facilitated over 6 GW of new-build renewable energy generation through PPAs. Earlier this year, Statkraft completed Andershaw wind farm in Scotland, adding to its UK generation portfolio and later announced an ambition to significantly grow its onshore wind portfolio, focussing on Scotland and Wales.
Due to limited financial capacity, Statkraft's strategy has been to exit the offshore wind industry. With this agreement Statkraft has divested all holdings in offshore wind and focusses on growth in renewables like hydropower, onshore wind, solar, district heating and other new renewable energy technologies.
Timeline
Oct 2012: Statkraft (30%) and Statoil (70%) acquires the project from Warwick Energy
Apr 2014: Dudgeon awarded Contract for Difference (CfD)
Jul 2014: Investment decision made (estimated £1.5 billion)
Mar 2015: Onshore construction commences
Apr 2016: Marine installation starts
Jan 2017: First turbine installed
Feb 2017: First electricity delivered
Nov 2017: Official opening in Great Yarmouth
Dec 2017: Statkraft sells its shareholding to a consortium led by China Resources (Holdings) Company Limited
Contact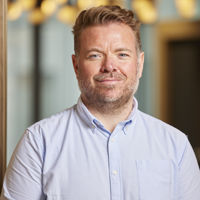 Gary Connor
Media Relations Manager, Statkraft UK