Statkraft closed a 15 year Power Purchase Agreement with Welton of Creuchies
The Norwegian energy group and the Scottish joint venture Welton of Creuchies Generating Company Limited concluded a long-term Power Purchase Agreement (PPA) for 15 years.
Following a competitive tender process, Welton of Creuchies Generating Company Limited selected Statkraft as the PPA offtaker. Funding was secured with Clydesdale bank, which required the project to have a PPA that optimised returns and provides a secure long-term route to market.
Welton was eligible for all three Renewable Obligation (RO) grace periods for onshore wind and it reached commercial operations in January 2018 making it one of the last few wind projects to accredit under the RO support scheme. It is the first of its kind to share grid connection infrastructure with a neighbouring project to reduce both capital costs and use of system charges.
The onshore wind project is located in Perthshire, near Alyth in Scotland. The contract was concluded in summer 2017 with Welton of Creuchies Generating Company Limited, consisting of majority shareholder John Ferguson, the local community and Green Cat Renewable Developments. The project has an installed capacity of 9.4 MW and comprises four 2.35 MW E82 Enercon wind turbines.
Michelle Lam, UK PPA Originator at Statkraft, said, "Green Cat and Clydesdale were a pleasure to work with and we look forward to working with them and John Ferguson over the next 15 years."
Green Cat Renewable director Gavin Catto was delighted to see the completion of the project. "This was a very challenging project that has taken many years to bring to fruition," Gavin said, "the combination of a modest wind speed and a 14km grid connection made the economics challenging. However, the opportunity to share the grid infrastructure which significantly reduced the connection cost and also reduced the project use of system charges made the project viable."
The project had been given the go-ahead by Perth and Kinross Council in July 2012 but was delayed by the grid connection. The local community owns 15% of the Welton of Creuchies wind project and stand to receive a significant amount of money over the lifetime of the project.
Statkraft offers PPAs in the UK for up to 20 years. It provides PPAs that give lenders long-term stability therefore enabling long-term debt and supporting the growth of renewables in the UK.
Last year Statkraft closed over 70 ROC PPAs in the UK and it hopes to close further RO grace period and CFD PPAs in 2018 as well as exploring further the subsidy free market. It also supports existing customers who are refinancing their projects. It has had recent success in the shorter term PPA market, which is an area of the business that they are also focusing growth.
About Statkraft UK
Statkraft is a leading company in hydropower internationally and Europe's largest generator of renewable energy. The Group produces hydropower, wind power, solar power, gas-fired power and supplies district heating. Statkraft is a global company in energy market operations. Statkraft has 4000 employees in 17 countries.
In the UK Statkraft develops, owns and operates renewable production facilities and is also involved in the trading and origination of power from its own projects and those of third parties.
Since 2006, Statkraft has invested £1.4 billion in the UK's renewable energy infrastructure and facilitated over 6 GW of new-build renewable energy generation through Power Purchase Agreements (PPAs). With a portfolio now exceeding 10 TWh per year from almost 300 customers, Statkraft is the leading provider of short and long term PPAs in the UK.
Contact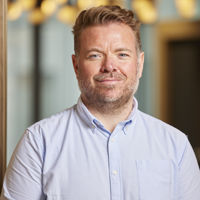 Gary Connor
Media Relations Manager, Statkraft UK