First virtual power plant to integrate renewable power, storage and flexibility assets in the UK
Statkraft, Europe's largest provider of market access services, and energy & meteo systems, a leading provider of forecasting services and virtual power plants are connecting intermittent wind and solar generation with battery storage capacity and flexible gas engines in one virtual power plant in UK. This will help integrating the increasing share of renewable power into the British energy market.
"Our business model in the UK to producers of renewable power involves marketing renewable assets with maximum efficiency – for our partners, but also towards the power market. The idea is to match renewable power production with market demand within seconds," says Duncan Dale, Vice President Sales & New Products of Statkraft in the UK. "The increasing share of renewable energy in the UK will require a maximum of flexibility in the British power grid. By integrating batteries and engines into the virtual power plant and optimising their operations we can provide this flexibility reliably."
The virtual power plant monitors the operations of more than 1,000 MW wind power, solar power, battery storage and flexible gas engines and compares it with constantly updating Day Ahead, On-the-Day and cashout price forecasts allowing the real time optimisation of power trading in the British energy market. Statkraft is planning to double the capacity of the virtual power plant by the summer. Making best use of flexibility will facilitate the integration of intermittent power generation into the electricity system and by that the expansion of renewable energy in the UK.
energy & meteo systems delivers the virtual power plant software, which connects, coordinates and monitors decentralised power-generating sites, storage facilities and controllable loads via a common intelligent control centre. In doing so, it can act within various energy markets as would a conventional power plant. By combining these functionalities with optimised power forecasting, fluctuating, decentralised power sources can be reliably integrated into the energy grid and profitably marketed at an energy exchange.
"We are excited to expand our cooperation with Statkraft," says Dr Ulrich Focken, founder and Managing Director of the forecasting firm energy & meteo systems. "We are already successful partners in Germany and believe that this new project is an important step in enabling Statkraft UK to make the most of renewable energy."
In Germany, Statkraft interconnects more than 1,400 wind and solar installations in what is Europe's largest virtual power plant. It has an installed capacity of approx. 12,000 MW. Control signals, forecasts and information about the actual generation are exchanged between the individual installations and the virtual power plant to the second. This makes it possible to shut down the generation within seconds and then start it up again, as required. Statkraft is one of the major providers of market access services for third parties in Europe with a portfolio of more than 18,200 MW.
Contact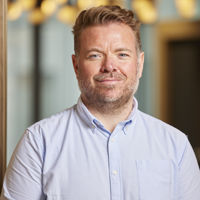 Gary Connor
Media Relations Manager, Statkraft UK