Statkraft signs a 15-year PPA with Common Barn Wind Farm
Statkraft and Common Barn Wind Farm Ltd, a wholly owned subsidiary of TCI Renewables Limited, have signed a long term PPA for just over 15 years, which has provided generation income to the project since its first day of export, and will continue to do so until the end of its 15-year CfD. The project commissioned its 3 Senvion MM92 turbines (totalling 6.15 MW) in March 2019 and it is expected to reach its CfD Start Date within the next few weeks.
Common Barn Wind Farm is 1 of 15 onshore wind farms that were awarded a Contracts for Difference (CfD) in the first CfD Allocation Round - the government's main mechanism for supporting low-carbon electricity generation. The CfD, alongside the PPA, will provide guaranteed income to the project for 15 years. Common Barn is thought to be one of the final projects from the first allocation round to commence its CfD.
Michelle Lam, UK Originator at Statkraft said, "It has been a pleasure to work with Brett and the team at TCI Renewables and we look forward to working with them on future projects".
Brett O'Connor, Director at TCI Renewables said "The team at Statkraft have been extremely helpful throughout the process and have gone above and beyond to ensure everything runs smoothly. We have enjoyed working with them on our first CfD project and hope we will have more opportunities to do so in the future".
Statkraft offers PPAs in the UK for up to 20 years. Having built up a strong portfolio of ROC, FIT and CfD projects, Statkraft is looking to offer PPAs on a subsidy free basis to enable long-term debt and supporting the growth of renewables in the UK.
About Statkraft UK
Statkraft is a leading company in hydropower internationally and Europe's largest generator of renewable energy. The Group produces hydropower, wind power, solar power, gas-fired power and supplies district heating. Statkraft is a global company in energy market operations. Statkraft has 4000 employees in 17 countries.
In the UK Statkraft develops, owns and operates renewable production facilities and is also involved in the trading and origination of power from its own projects and those of third parties.
Since 2006, Statkraft has invested £1.4 billion in the UK's renewable energy infrastructure and facilitated over 6 GW of new-build renewable energy generation through Power Purchase Agreements (PPAs). With a portfolio now exceeding 10 TWh per year from almost 300 customers, Statkraft is the leading provider of short and long term PPAs in the UK.
Contact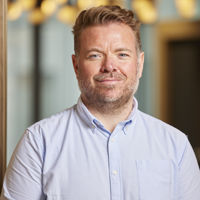 Gary Connor
Media Relations Manager, Statkraft UK