Statkraft to acquire UK electric vehicle business from Vattenfall
Swedish energy group Vattenfall is to transfer ownership of its electric vehicle business in the UK, to Statkraft, Europe's largest generator of renewable energy.
Vattenfall currently operates an electric vehicle charging network in the UK and this has been acquired by Statkraft, who intend to continue powering the charging points with 100% renewable energy from its own portfolio.
Statkraft, via its 100% owned subsidiary Gronn Kontakt UK Ltd, will take on the current electric vehicle charging network staff in the UK and will manage, operate and maintain the charging stations.
Statkraft has recently strengthened its position in the European charging market, having acquired Norwegian EV charging company Gronn Kontakt in December last year and German EV charging companies E-Wald and eeMobility previously.
Anthony Hinde, Head of eMobility in Statkraft UK Ltd said:
"Statkraft's experience with charging in Norway and Germany provides the confidence and scale to make a sustainable and customer focussed business in the UK. In all these markets Statkraft is already present with energy production and comprehensive market operations."
David Flood, Managing Director of Statkraft UK Ltd said:
"Statkraft has ambitious growth plans and ambitions to contribute to the transition to a renewable energy powered transport sector in the UK. Long term investment into the UK market is a key part of our strategy. Electric vehicles will change the power industry in Europe, and to achieve an emission free transport sector, renewable energy must be used to charge electric vehicles."
Tomas Björnsson, Head of E-mobility at Vattenfall said:
"Vattenfall is taking stock and changing its focus to ensure that the transport offer in the UK is fit for purpose. We will do our utmost to ensure that customers experience limited disruption at this time. Statkraft are a good fit for our current electric vehicle business in the UK. They intend to continue to power the charging points with 100% renewable energy, which fits well with our purpose to enable fossil free living within one generation."
"Vattenfall continues with its international electric vehicle charging growth and aims to make electric driving the new norm in North-western Europe. Exiting the UK market with our electric vehicle charging offer does not impact our continued growth in the markets we are active in, but rather allows for further focus."
"Vattenfall has invested over £3.5bn in UK renewable generation and we will continue to invest in developing its core UK renewable power generation, heating, B2B sales and distribution businesses. With this, we hope to play a valuable role in supporting the UK government's commitment to reaching net zero carbon emissions by 2050."
Over the coming months, Vattenfall will work with Statkraft to transfer the assets on a case by case basis to ensure there is no disruption to customers. In addition, Statkraft will look to grow the existing network working with existing and new customers and provide an offering of both Rapid and Fast chargers for UK drivers.
A Statkraft report published in September 2019 concluded that electric and hydrogen trucks will be able to compete on price with diesel trucks by 2025, and almost all new private vehicles and more than half of all new heavy vehicles will run on electricity or hydrogen by 2050.
About Statkraft
Statkraft is a leading company in hydropower internationally and Europe's largest generator of renewable energy. The Group produces hydropower, wind power, solar power, gas-fired power and supplies district heating. Statkraft is a global company in energy market operations. Statkraft has 4,000 employees in 17 countries.
In the UK Statkraft develops, owns and operates renewable production facilities and is also involved in the trading and origination of power from its own projects and those of third parties. Since 2006, Statkraft has invested £1.4 billion in the UK's renewable energy infrastructure and facilitated over 6 GW of new-build renewable energy generation through Power Purchase Agreements (PPAs). With a portfolio now exceeding 10 TWh per year from almost 300 customers, Statkraft is the leading provider of short and long term PPAs in the UK. www.statkraft.co.uk
About Vattenfall
Vattenfall is a leading European energy company, which for more than 100 years has electrified industries, supplied energy to people's homes and modernised our way of living through innovation and cooperation. We now want to make fossil-free living possible within one generation. That's why we are driving the transition to a sustainable energy system through initiatives in renewable production and climate smart energy solutions for our customers. We employ approximately 20,000 people and have operations mainly in Sweden, Germany, the Netherlands, Denmark, the UK and Finland. Vattenfall is owned by the Swedish state.
Vattenfall offers the full-suite of solutions needed for an electric vehicle: Charging at home, at work, at business as well as access to an international public network of charge points. Vattenfall will continue to operate charge points across different markets, including the 15,000 charging points in Sweden, The Netherlands, Norway and Germany.
In the UK, Vattenfall operates eleven onshore and offshore wind farms, with an installed capacity of more than 1GW. It has a pipeline of new projects, including two 1.6GW wind projects off the Norfolk coast, one if which is awaiting planning consent. Vattenfall has also just announced it is Midlothian's energy partner, and through this partnership will build its first heat network in the UK.
Contact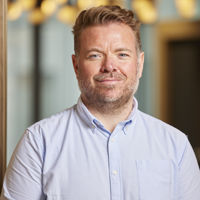 Gary Connor
Media Relations Manager, Statkraft UK