Borders wind farm proposal set to boost Scottish energy security
The Scottish Borders could soon be on course to help secure Scotland's energy future through a more efficient way of generating clean electricity, by using fewer turbines to maximise the efficiency of the site, under plans put forward for a new wind farm, 12.5km south of Broughton.
Statkraft, Europe's largest renewable power generator, has lodged initial plans for Oliver Forest wind farm, which would be located near the A701, between Tweedsmuir and Glenbreck. The wind farm would generate up to 66MW of clean renewable electricity from just ten turbines, which is enough to power over 74,000 homes1.
Under the proposals, the turbines, which have a maximum tip height of 250m, would be carefully sited to use the land most efficiently, minimising the overall visual and other key environmental factors of the proposal while still generating a significant amount of clean renewable energy to achieve Scotland's net zero goals. There is expected to be limited or no visibility from Broughton, Moffat, or Biggar.
At this very early stage in the proposal, Statkraft has begun a programme of community engagement, so local people and stakeholders can give their initial feedback on the plans, which are subject to final approval by Scottish Government ministers. The first in-person and digital public exhibitions will take place in early 2023.
Statkraft is committed to delivering a community benefit fund worth up to £330,000 each year during the lifetime of the project2 and is keen to gather ideas on utilising the fund to meet local needs. Statkraft also looks forward to exploring the idea of community shared ownership.
Rebecca Todd, Statkraft's Senior Project Manager, says: "Statkraft has a strong track record in Scotland, with an office in Glasgow and a number of wind farm sites already generating clean, renewable electricity.
"So it is exciting to be launching our first Borders project, which will be a key moment for the way renewable electricity can be generated in the future. By taking advantage of new technology, we can make best use of the land, while seeking to minimise disruption to locals.
"I'm looking forward to speaking to people about our plans throughout the development process, to deliver a project which takes on board their views, and a fund that supports the local community too."
"On 10 January 2023, National Grid announced a new record of energy generated from wind farms providing more than 50.4% of the UK's power, beating the previous record achieved on 30 December 2022. As onshore wind is the cheapest source of new power this is good news for bill payers and business on our route to achieving energy security and the Scottish Governments net zero goal by 2045."
Homes equivalent number based on 10 x 6.6MW turbines, wind resource assessment and average Scottish domestic consumption of 3,520kWh pa. Candidate turbine still to be confirmed. (BEIS, December 2021).
Contact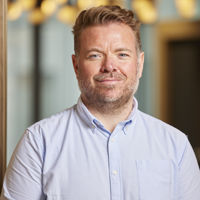 Gary Connor
Media Relations Manager, Statkraft UK