Location: Unknown
Photo: Bjørn Grane
Ensuring a stable flow of electricity through the grid of power lines is an important task.
Grid Services: Innovative solutions to stabilise our electricity system
Statkraft are market leaders in delivering innovative projects that ensure the reliability of our electricity supply. We explain why grid stability is crucial in the transition to a net zero electricity system and what role the company is playing.
As renewable energy generation increases, new ways to maintain system stability are required. This vital transition from large fossil-fuel plants to renewable energy presents a need for solutions that can deliver grid stability, increase the amount of renewable energy delivered on the grid network and reduce costs for consumers.

Understanding grid stability
Grid stability means maintaining the same frequency of electricity across the grid network, providing reliability of power supply in case of disruptions to the electricity system.
In traditional power plants based on coal, gas or hydropower, kinetic energy from turbines is converted into electric power using generators. The large turbines have so much inherent inertia, and store so much kinetic energy, that they provide enough response time to cope with sudden interruptions in the power supply. This is similar to a bicycle that continues to roll long after the cyclist has stopped pedalling. Maintaining stability in the GB grid has become a bigger challenge as we get more and more of our energy from wind and solar power plants. Renewable energy reduces the impact of climate change and is essential to achieving the UK's zero-carbon goals. Without stability services projects, like those delivered by Statkraft, renewable power plants do not have the inherent inertia needed to give time to respond to rapid changes in system frequency. In times of power interruption, such as when a generator fails or a power line is cut, frequency deviations can have major implications for grid stability – and in the worst case, can cause a blackout.
We are already seeing the need for grid stability projects. On 20th April 2020, National Grid Electricity System Operator (NGESO) had to turn on 17 gas fired power plants simply for their stability services, increasing carbon emissions and consumer costs.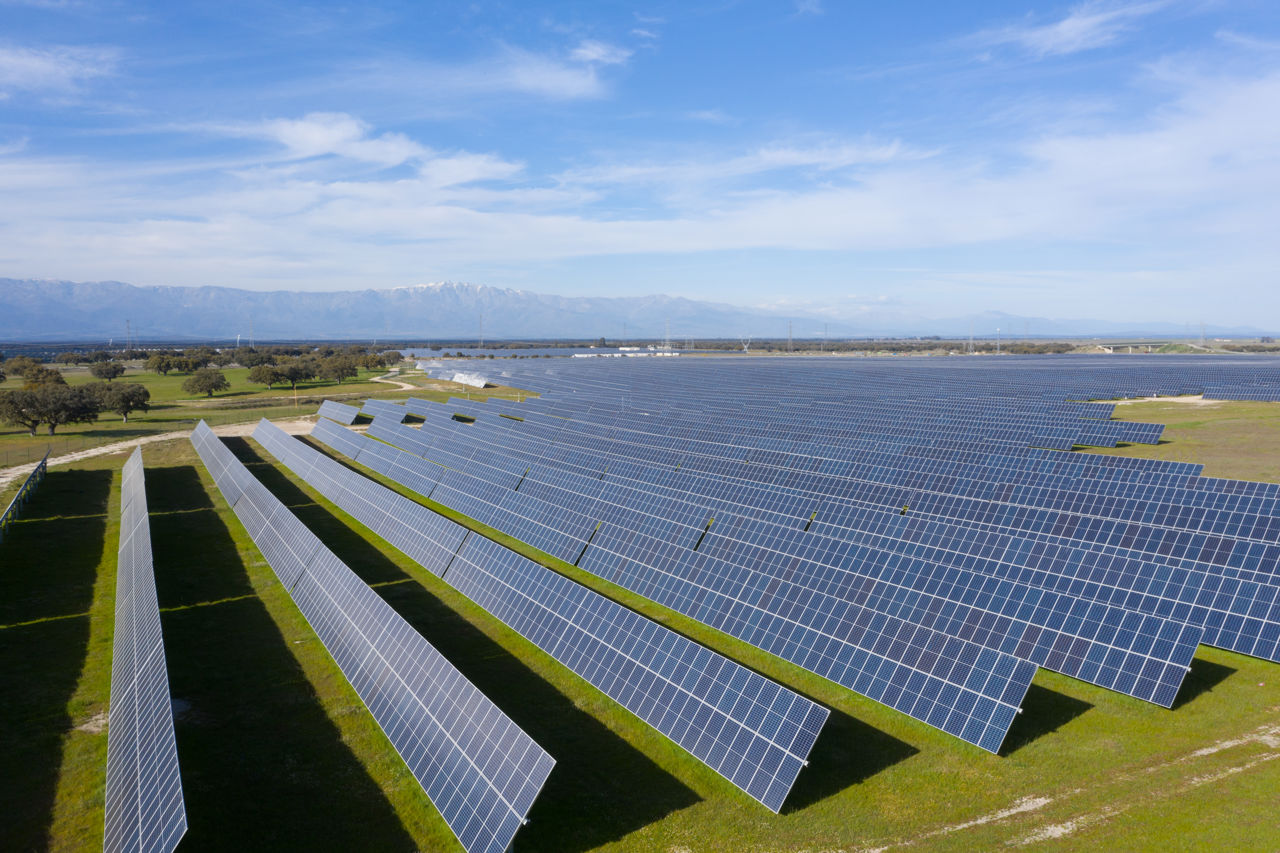 Harmful emissions
Different countries have different types of technologies for producing electricity and ensuring a stable power supply. Norway, which gets almost all its electricity from hydropower, generally has no problem with inertia and frequency drops. Other countries, such as France, have a lot of nuclear power, where large steam turbines provide stabilising kinetic energy to the grid.
Most other countries – including the United Kingdom– do not have access to large amounts of hydropower or nuclear power and until now needed to operate coal or gas-fired power plants to ensure a steady frequency in the power grid. In practice this means that, on an increasingly regular basis, these power plants are run only to stabilise the grid, even though there is more than enough power from solar and wind to cover electricity needs.
The result is that we often don't get to utilise all of the renewable generation we have. The system operators are forced to run gas or coal power plants and turn off wind turbines that could supply electricity. The UK aims to cut emissions by at least 68% by 2030 on 1990 levels and reach net zero by 2050. If we are to achieve this goal, we must have solutions that can ensure stability in the grid without emitting large amounts of CO2.
Rotating stabilisers
This is where the rotating stabiliser, or synchronous compensator, comes in. These machines are designed to deliver the inertia needed to stabilise the grid and thus eliminate the need to run fossil-fired power plants. With the help of flywheels, the stabilisers can "store" kinetic energy in the same way as turbines.
"The rotating stabilisers are large machines weighing over 200 tonnes. While the turbines in traditional power plants convert motion into electricity, the rotating stabiliser uses a small amount of electrical energy to balance the friction losses and maintain the rotational speed. The units are designed with a large mass to create as much inertia as possible. The greater the inertia, the slower the system frequency will change during major power outages or disruptions," explains Guy Nicholson, Head of Greener Grid Parks in Statkraft UK.
Why do we need Greener Grid Parks?
Long-term green solution
In the UK, Statkraft uses rotating stabilisers in its Greener Grid Parks. Keith Greener Grid Park in Moray, Scotland, went into operation in December 2021, and in Liverpool, England the Lister Drive Greener Grid Park is nearing completion.
"Our grid must be adapted to the rapid progress that renewable energy has made in the UK," says Guy Nicholson. "Sometimes it's been necessary to shut down wind farms and operate gas power plants to keep the grid stable. Several projects such as Keith Greener Grid Park are making this a thing of the past. The rotating stabiliser does the job without emitting greenhouse gases, and that's exactly what we want."
The success of Keith Greener Grid Park since it went into operation has been encouraging and opened up the possibility of a number of Greener Grid Parks being built in the UK and in other countries. Located at strategic points along the power grid, they will be able to help ensure stable energy supply in and, crucially, reduce greenhouse gas emissions from energy production.
"In the UK, we have a goal of an emission-free power grid that can simultaneously deliver a stable and secure energy supply to households, business and industry. Statkraft's Greener Grid Parks with rotating stabilisers can be an important contribution to achieving that goal," says Nicholson.
"This solution means not only that we can use more self-produced renewable energy, but also that we can import more renewable energy via subsea cables from the continent. In 2021, the world's longest subsea electricity interconnector went into operation, connecting the UK and Norway. This gives the UK access to renewable Norwegian hydropower and gives Norway electricity from British wind power when needed."
Keith Greener Grid Park in Moray, Scotland
What about using batteries to stabilise the power grid?
Like rotating stabilisers or turbine-powered plants, batteries can be used to stabilise the frequency of the power grid, and they can be used in combination. Battery Energy Storage Systems (BESS) are actually the fastest solution for delivering large amounts of power to the grid in an emergency. This is known as "grid-forming BESS".
During 2020-2021 alone, Statkraft commissioned two large battery parks in the Republic of Ireland. One battery park, in Kilathmoy, was in operation for a year in the spring of 2021 and has, several times, played a crucial role in stabilising the Irish power grid.
Batteries can supply power to the grid in fractions of a second in the event of a drop in frequency and are the fastest power reserve available.
Current battery technology, however, is not a solution for long-term storage of large amounts of energy.
Statkraft's battery parks in the Republic of Ireland have reserves for about an hour of operation. In the future there is potential for increasing this to two to four hours of operation. This provides a way to help stabilise the grid today, and offers short-term storage of surplus power for sale in the power market.
As we rely more heavily on renewables, the GB Grid must be able to deal with longer periods of low output from solar and wind. For the long-term storage of surplus energy from renewable power production, other solutions, such as green hydrogen, will need to be explored. Hydrogen can be used as a fuel, but also to drive turbine-powered plants, which can have a stabilising effect in the grid in the same way as coal or gas-fired power plants.
In the UK, Statkraft are contracted by NGESO to deliver two Greener Grid Parks using grid-forming BESS, with the first project expected to be at Neilston, Scotland.
Ahead of the game: Statkraft's leading role in National Grid's Stability Pathfinder programme and beyond
While neither batteries nor rotating stabilisers is new technology, using them as grid stabilising solutions is new and innovative. Statkraft is ahead of the game here.
In 2019, NGESO launched its NOA Stability Pathfinder programme, aimed at helping address stability issues on the GB grid and meeting the ambition of an emission-free British power system by 2025. Statkraft has been successful in being awarded contracts under all three phases of this programme. Phase 3 results announced in November 2022 saw Statkraft awarded the largest single contract, with a 4074 MW inertia synchronous compensator in Norfolk. The company was also awarded the highest number of contracts (6) in Wales, demonstrating its position as a market leader in provision of grid stability services.
The next project to enter construction will be the synchronous condenser and grid-forming BESS project, located in Neilston, Scotland.
The demand for stabilising grid services is bound to grow globally as the production of renewable energy increases. Statkraft's experience providing grid stabilising services in the United Kingdom and Ireland, as well as its position as a large and highly experienced producer of renewable energy with solid knowledge of the market across 20 countries, gives it a great advantage. The grid-stabilising services it provides may quickly become relevant in other countries with similar challenges.
Italy is one example. The country is decommissioning a number of coal-fired power plants and developing a lot of renewable energy, and in the coming decade it will face many of the same grid stability challenges being experienced in the UK, making it a potential market for Statkraft's grid stabilising services.
In summary: grid stability services
Grid services are various services to keep the frequency and voltage of the power grid stable. In many regions, this stability has traditionally been supplied by coal or gas-powered plants.
Grid services represent a new and growing business area for Statkraft and are particularly promising in the UK and Ireland.
They also represent a significant opportunity to develop a new and profitable business area.
Statkraft has been awarded stability contracts by National Grid ESO across all three Stability Pathfinder projects. These projects are aimed at helping address stability issues on the electricity system and will help meet the ambition of an emission-free British power system by 2025.
These contracts will ensure the construction of new synchronous compensator and grid-forming battery projects across England, Scotland and Wales.
Statkraft developed, built and now operate two Greener Grid Parks – in Liverpool and Moray, Scotland.
The next project to go into construction will be the Neilston Greener Grid Park in Scotland consisting of grid-forming BESS.
Statkraft Ireland has completed construction of two major battery parks in Ireland: Kilathmoy and Kelwin-2.
Statkraft is paid for grid stability services through a contract with the system operators National Grid Electricity System Operator (NGESO) in the United Kingdom and EirGrid in Ireland.